3.15.1x
Electronic Materials and Devices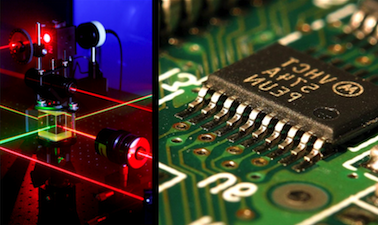 Access on MITx Online
This course is currently available on MITx Online with Certificate enrollment open.
About this course
In this engineering course, you will learn about diodes, bipolar junction transistors, MOSFETs and semiconductor properties.
This course is part 1 of a series that explain the basis of the electrical, optical, and magnetic properties of materials including semiconductors, metals, organics, and insulators. You will learn how devices are built to take advantage of these properties. This is illustrated with a wide range of devices, placing a strong emphasis on new and emerging technologies.
Part 2 - 3.15.2x: Optical Materials and Devices
What you'll learn
The origins of semiconductor properties
Carrier action in semiconductors: drift, diffusion, recombination and generation
The behavior of p-n junctions at equilibrium and under bias
The derivation and application of the ideal diode equation, and how real diodes differ from ideal diodes
Operating principles of bipolar junction transistors and MOSFETs
Syllabus
Week 1
Semiconductor Fundamentals
Week 2
Carrier Action: Drift and Diffusion
Carrier Action: Recombination and Generation
Week 3
pn Junction at Equilibrium
pn Junction Under Bias
The Ideal Diode Equation and Real Diodes
Week 4
Bipolar Junction Transistor
Field Effect Transistors
Course staff

Caroline Ross
Toyota Professor of Materials Science and Engineering MIT